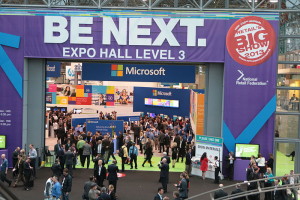 Image credit: http://www.flickr.com/photos/nationalretailfederation/8385020840/sizes/m/in/set-72157632533274056/
Trade shows help your business become visible and credible. They also generate awareness and spread the word about your business, resulting in potential leads and new sales for you. But that's not all! Here are the top 10 advantages for attending trade shows:
1. Cost gets recouped Don't be put-off by the price of exhibiting at a trade show. With the right marketing strategy in place you can easily recover the money you spent on set-up and promotional material.
2. Be in front of your target market You will be in front of your audience, which means they'll be very interested in buying what you're selling. Potentially thousands of people will be at the event in order to find out more about what is happening in your industry.
3. Learn what people think By putting your product forward at trade shows you'll find out what people like and don't like straight away, which can help with product development and future marketing strategies.
4. Build valuable relationships Whether it's with other exhibitors, suppliers, or the one on one time you'll get to spend with potential clients – trade shows are a great way to create repour, add credibility and build relationships.
5. Check out the competition See what others are doing in your industry for inspiration and to stay ahead.
6. Get sales leads New people passing through means new business. Follow up people you come into contact with to establish and nurture those relationships and possible turn those leads into sales!
7. Get more exposure If you're a smaller business, trade shows are a great way to get your name in front of thousands of prospects in a short period of time.
8. Brand building A trade show creates an extra touch point with both your potential and existing clients. The more times they come into contact with you, the stronger your brand becomes to them.
9. Promotional offers Help bolster product or service sales with an offer only available at the show.
10. Direct contact & influence One of the biggest advantage of trade shows is the direct selling opportunities you'll be able to present. Your chances of thoroughly explaining – therefore influencing buyers about – your product or service is greatly enhanced. If you'd like to view some great trade show Packaged Deals to help with your display, check out the SK Displays packages here and get in touch today.